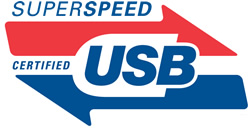 The Universal Serial Bus standard has come a long way since its introduction in 1996. Backed by a consortium of companies led by
Intel
, Compaq and Microsoft, it offered some unheard-of features for its time, including the ability to connect peripherals without turning off the computer first and to draw power without a separate AC connection. The standard became popular with the arrival of version 1.1 in late 1998, allowing a maximum transfer rate of 12Mb/s, and as we can witness nowadays just about any device comes standard with 'Hi-Speed' USB 2.0 connectivity.
USB
3.0 is the next major revision of the ubiquitous interface. Dubbed SuperSpeed USB, this new version promises a tenfold leap forward in transfer speeds as well as improved capabilities, all while maintaining compatibility with USB 2.0 devices. In the following few paragraphs we've rounded out all the relevant information that you as a consumer should know about the next-generation USB standard.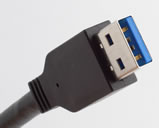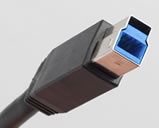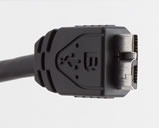 Some quick facts about USB 3.0
It's fast.
The new standard breaks the 480Mb/s data transfer limit of USB 2.0 and takes it to a new theoretical maximum of 4.8Gb/s. Keep in mind that real-world performance can be considerably lower than that. USB 3.0 devices are not expected to reach their full potential at launch, but as the standard matures the
USB-IF
considers it reasonable to achieve a throughput of 3.2Gb/s, or just about enough to transfer a 27GB high definition movie in little over a minute rather than 15 or more with USB 2.0.
It's bi-directional.
Unlike previous versions where data can only be piped in one direction at a time, USB 3.0 can read and write data simultaneously. This is achieved by adding two new lanes dedicated to transmit SuperSpeed data and another pair for receiving it, bringing the total number of connections from four on USB 2.0 (power, ground and two for sending/receiving non-SuperSpeed data) to nine counting the 3.0 ground contact.
Furthermore, the signaling method, while still host-directed, abandons device polling in favor of a new interrupt-driven protocol. This ensures that the USB host controller doesn't continually access a connected device in anticipation of a data transfer. Instead, USB 3.0 devices will send the host a signal to begin a data transfer.
It's more power efficient.
The signaling method mentioned directly above also means that non-active or idle devices won't have their power drained by the host controller as it looks for active data traffic. Minimum device operating voltage is dropped from 4.4 V to 4 V. On the other hand, the USB-IF has upped the maximum bus power output from about 500 mA to 900 mA, which will enable power-hungrier devices to be bus-powered and USB hubs to support more peripherals. There's also the bonus that battery-powered devices should charge faster.
It's backwards compatible.
Your existing USB 2.0 gear will work on version 3.0 ports and vice versa. You'll be able to maximize your bandwidth when using a USB 3.0 cable with USB 3.0 devices and ports, otherwise plugging a 3.0 device into a 2.0 port or a 2.0 device into 3.0 a port will get you standard USB 2.0 data rates.
Since the new interface has been carefully planned from the start to peacefully co-exist with its predecessor, the connector itself remains mostly the same with the four USB 2.0 contacts in the exact same location as before. Extra pins for the new lanes dedicated to transmit and receive SuperSpeed data are located on the back and only come into contact when mated with a proper USB 3.0 port.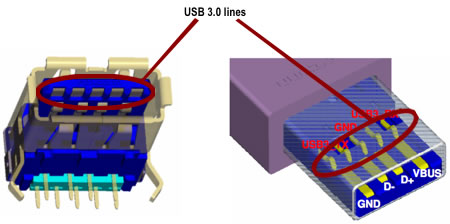 The receptacle is deeper as a result of this and USB 3.0 plugs will be longer than existing ones to reach the rear contacts. Also, due to the use of additional wires the new cable will be about as thick as an
Ethernet
cable
.
Available and upcoming products, price points
After co-creating the USB 3.0 Promoter Group more than two years ago, and being criticized for
allegedly blocking hardware partners
from accessing needed information, Intel finally
released the Extensible Host Controller Interface
in August 2008. This meant that other members of the USB 3.0 Promoter Group would be able to start developing their own solutions once the
finalized spec was made available
.
Unfortunately Intel itself has no plans to support the
technology
on their own chipsets
until at least 2011
, holding back mainstream adoption, but NEC has a single-chip solution on the market right now known as
the µPD720200
. The chip measures 10 x 10mm, consumes up to 1W and is priced at $15 in bulk quantities.
Motherboards
Several board manufacturers have been relying on NEC's host controller for adding USB 3.0 functionality to their products. Asus has four variations of the P7P55D-E for Intel LGA 1156 (Lynnfield) processors, with
prices ranging from $180 to $280
, as well as the
$300 P6X58D Premium
for Intel LGA 1366 (Bloomfield) chips. Gigabyte also has four boards currently available as part of its P55A branded series priced between
$135 and $250
. Also the
GA-X58A-UD7 for $350
and a pair based on AMD's 790X and 790FX chipset each going for
$140
and
$185
, respectively.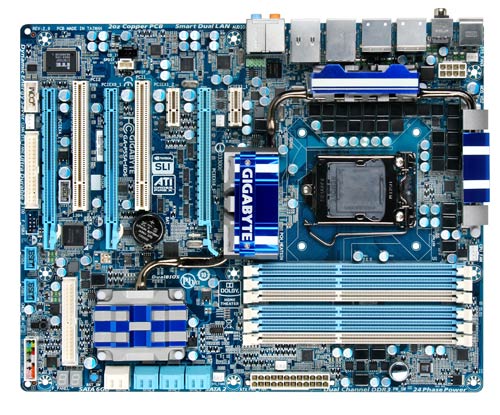 MSI is known to be working on at least one USB 3.0-equipped P55 motherboard,
the P55-GD85
, and another based on
AMD's forthcoming 890FX chipset
which is expected to arrive in the second quarter of next year.
Devices
It might take at least a couple more years until we see the market for USB 3.0 devices really explode. High-bandwidth devices will naturally be among the first to migrate to the new interface, but cost considerations, which are mainly driven by demand and volume, will restrict implementation to higher-end products for now.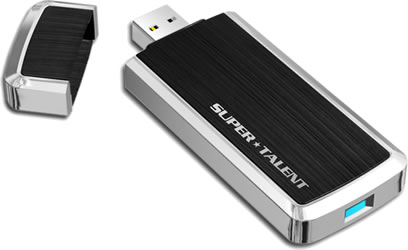 As of this writing we know of only a handful of devices offering support for USB 3.0 and most of them are prohibitively priced for the average user. Super Talent, for example, has unveiled a
line of thumb drives
that will debut with a 64GB model priced at $400. The promised 320MB/s transfer speeds sure are tempting, though.
Buffalo's newest external hard drive,
the DriveStation HD-HXU3
, steps into a slightly more reasonable price point with the 1TB model to start selling for $200 and the 2TB version for a whopping $400. The company has also announced a USB 3.0, 12X Blu-ray burner which should sell in Japan at a price equivalent to $451.

We expect several other devices to be announced in little over a week at the Consumer Electronics Show (CES) in Las Vegas, including an external
solid-state drive from OCZ
and a dual-drive RAID storage solution from LaCie, both based on a new Symwave storage controller. There will also be several USB 3.0-infused DisplayLink products at the show and a number of other products from all the usual suspects -- we'll make sure to keep you up to date in our coverage when the information becomes available (and updating this guide as required).
Adapter cards
Adapter cards will likely play an important role in driving the installed base of USB 3.0 ports up. Instead of shelling out upwards of $150 for a new USB 3.0-equipped motherboard, users would need to spend roughly $30 to $50 for a 2-port PCI Express card compatible with their current hardware.
It should be noted that Windows 7 doesn't have native support or drivers for USB 3.0, but Microsoft intends to deliver them in an upcoming update to the operating system.
Performance Expectations, Intel's Support and Light Peak
What to expect: Maximum throughput / likely real world performance
Theory and practice are rarely the same. The actual speed of the USB interface can be affected by a number of factors, from the performance of the computer a particular device is attached to and the
chipset
used, to protocol overhead and the interference caused by other USB devices on the same bus.
So, while USB 2.0 has a theoretical maximum of 480Mb/s (60MB/s), real-world data transfer rates are actually closer to 280Mb/s (35MB/s). It's impossible to know with absolute certainty what to expect from
USB
3.0 devices without first putting a few to the test, but even if only a 25% of the maximum is attainable at launch, as some have suggested, we are still looking at an average read and write speed of 1.2Gb/s (150MB/s).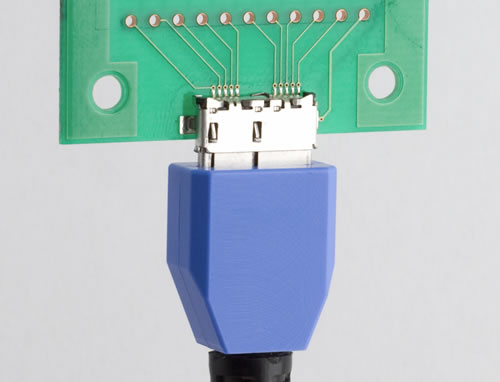 This means that data transfers with external
USB
storage
will no longer be capped by the interface at around 35MB/s but rather by the drive's performance. Unfortunately, 150MB/s may not be enough throughput to handle the fastest solid-state drives on the market at their full capacity, but keep in mind that this is all based on conjectures and in any case we expect things to improve as driver support matures.
As far as marketing claims go, Super Talent has quoted transfer speeds of up to 320MB/s using a UAS Protocol driver for its upcoming RAIDDrive USB 3.0
flash
drives
, while Buffalo claims 130MB/s rates for its DriveStation HD-HXU3. OCZ is keeping mum on performance details until CES. We look forward to putting these and other devices to the test once they become available over the next few weeks.
Besides storage, any high-bandwidth device that works with USB 2.0 will work better if updated with USB 3.0 support. Some possible applications include high-resolution webcams, external Blu-ray drives, large LCD monitors capable of being hooked up via a simple USB connection, digital cameras and more.
Light Peak, Intel delaying USB 3.0 support, closing thoughts
During September's IDF, Intel showcased a high-speed optical cable interface for PCs
called Light Peak
that promised a 10Gb/s transfer rate -- or twice the speed of USB 3.0 -- with the potential ability to scale to 100Gb/s.
Light Peak is being developed as a way to reduce the proliferation of ports on modern computers and could eventually replace the plethora of interfaces currently used, from USB itself to HDMI, DisplayPort, LAN and so on.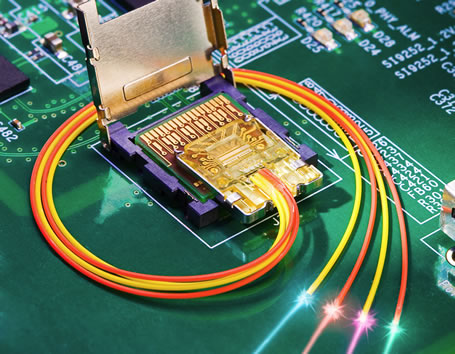 Around the same time it was revealed that Intel will not be packaging
USB 3.0 support into its chipsets
until at least 2011. This has sparked speculation that the company may be showing preference to its own optical cable interface, which is reportedly scheduled to enter mass production in early 2010.
Others attribute the delay to Intel chipset teams being more focused on supporting the current Nehalem platform, as well as transitioning to the 5GHz PCI Express 2.0 specification. Let's also remember that back when the final USB 2.0 specification was released in 2000, it was also NEC who introduced the first compatible controller, with Intel not integrating support into its own chipsets until May 2002 with the 845E, 845G and 845GL.
Whatever their plans are, replacing USB -- let alone consolidating all interfaces under a single standard -- is not something that will happen overnight. Users upgrading to one of the more expensive motherboards from the likes of Asus, Gigabyte and MSI will likely gain access to a pair of USB 3.0 ports right off the bat, while those holding on to their current systems or going for an affordable build can opt for a $30-$50 expansion card. Now let's just hope more USB 3.0 devices start hitting store shelves soon.
By Jose Vilches on December 30, 2009 Techspot